Amanda's daughter, Olivia, and my son, Gabe, are in the 2nd grade together at our local elementary school and last year they were in the same classroom. Amanda works as a para-professional in that same elementary school and whenever Gabe tells me stories from school, he refers to Amanda as "Olivia's Mom" who, to him, is always fun-loving and colorful.
Wanting to get to know "Olivia's Mom" better, I asked if we could sit down for a chat...
[S]: You're from Illinois correct?
[A]: Yes. West Central Illinois; a little Mississippi River bluff town called Quincy. I met my husband there when we were in high school. I asked him out and since I'm a year older than him I'm a little bit of a cougar. He said no at first, but then about a week later he said yes after he came to one of my softball games incognito.
[S]: Do you think he said no because he was taken off guard by a girl asking him out?
[A]: Yeah. But now, we've been together for 17 years.
[S]: Who proposed?
[A]: He asked me.
[S]: How did he propose?
[A]: Well, I loved reading the engagement and marriage announcements in our local paper. I wanted to see who was or wasn't getting married. It just so happened that Ben's family owned the newspaper in Quincy. One time, Ben had this stack of Sunday papers sitting on the table, and of course, I start looking through them. All the while he's staring at me and I couldn't figure out why. I finally open up the last newspaper and there was a huge box that said "Amanda will you marry me? - Ben" and with it was a picture of our first date. It was a mock-up of what our engagement would look like. When I pulled the top of the newspaper down, Be was holding the ring box and I said "yes."
We were in college in Lawrence Kansas at KU at the time - Go Jayhawks! Ben was getting ready to graduate and we were going to be moving to Philadelphia. We figured it would be more "kosher" to be engaged before living together.
[S]: Did you graduate from KU as well?
[A]: No, I wasn't able to finish my degree due to a lack of funds. I ended up with three jobs and made a lot of money working at a newspaper, the Gap, and as a waitress. I worked, worked, and worked until Ben graduated. Then, we were off.
[S]: What would have been your major had you been able to continue school?
[A]: I was an art history major, but took an African American studies class at KU with a fabulous professor and switched my major to African American studies with a minor in history. I love history.
[S]: What would you have done with that degree?
[A]: Teach history, I think.
[S]: What is your favorite era of time?
[A]: That would have to be the Civil War and Civil Rights eras which are probably why I went into African American history. Being from Illinois there's a significant focus on Lincoln, obviously. For school field trips we went to the state capitol, Lincoln's house, and his tomb. I grew up idolizing him and he's still my favorite President. I also gravitate towards the Civil Rights era and I love Kennedy as a president.
Before moving to Quincy we lived in a really small town called Payson, Illinois. It's maybe 10 miles from Quincy. There is a church there that used to be a part of the Underground Railroad so I grew up with that little tidbit and knew the Underground Railroad was part of the Civil War era and was fascinated by that.
[S]: What is something that drives you crazy or sparks your temper?
[A]: Hmm...I would say when I'm grocery shopping and there is a person in the middle of the aisle - and the aisle could be as big as a car - but their cart is all crooked and blocks the entire aisle. You wait and wait and you know they know you are waiting, but they don't move. You try to be patient because you don't want to that person so you pretend you're looking at stuff. Finally, they move and when you can around them they're all like, "Oh, I'm sorry was I in your way?" and I think "Oh, you totally knew I was there."
[S]: Haha. That totally drives me crazy, too. Now, imagine your childhood on a hot July day in central Illinois. What are you doing?
[A]: I'm playing softball, for sure. I had two older brothers, Brent, who is 14 years older than me and, Brian, who was 12 years older than me. My dad and my brothers, but mostly my brothers, taught me how to play ball like a boy. If I wasn't watching The Brady Bunch or The Monkees I was outside playing ball by myself or with my brothers. It didn't matter if it was hot, cold, raining, or not raining that is literally what I was doing.
[S]: Do you still play?
[A]: I don't. I have a huge shoulder problem. I played from age five until those two years at JuCo. I did traveling ball. I loved it, absolutely loved it. We'd sometimes play eight games in a weekend. They were the best years of my life.
[S]: No wonder you have shoulder problems...What was an event that shaped your life; something that has shaped you and made you who you are?
[A]: It's gotta be my brother, Brian's, death.
[Amanda pauses as the tears begin to flow]
Phew.
[S]: Are you willing to talk about it?
[A]: Uh-huh. It was very sudden. We were really close even though we were twelve years apart. Sort of like "Forrest and Jenny" peas and carrots. He included me in everything.
[S]: Describe him. Tell me about him.
[A]: He always had a mullet with the curls at the bottom. He had dark hair and the best smile ever.
[S]: How did you feel when you were around him?
[A]: He made me feel like I was the most important person. My husband reminds me of him a lot. Brian was a golfer and played both basketball and baseball, but he was born with a genetic blood disorder - hemophilia. Because of that, he had to be very careful when he played certain sports and eventually he had to quite most, but he continued to play golf. My husband plays golf and there are lots of other little things about my husband that remind me of Brian. It kind of makes me wonder if Brian had a hand in me meeting Ben.
Brian included me in everything. He would pick me up from school on Mondays because he didn't have to work. He did that right up until he died which was the summer before my freshman year in high school.
[S]: What would you do after school when he would pick you up?
[A]: We would usually go home and play his Nintendo (the legit original Nintendo); games like Mario 3 and Tiny Toon Adventures. This was around the time that Little Mermaid came out and I was obsessed. Oh my gosh, I used to comb my hair with a dinglehopper (a fork). I would plug a mic into our sound system and sing "A Whole New World" and Brian would come in and sing with me. What other kid his age would stop and do these things with his little sister?
[S]: How did he die?
[A]: He had a brain aneurysm. We don't know if it was related to his hemophilia or why it happened, but I remember when it happened. Brian was 25, or soon to be 25. It's like it happened yesterday. I had my friend, Jodi, over to spend the night and we were in the backyard having a little picnic and doing those quizzes from YM magazine. Remember those? Side note: All my friends thought my brother was hot stuff. He was very good looking. Anyway, Brian parked in the back garage triggering the motion light to come on. He greeted us then told us he was going in because he wasn't feeling well. It was about 8:30 p.m.
We followed him inside and then went to my room while he went to the kitchen. When we came out of my room we found him sitting at the kitchen table. He was rubbing his neck and he sort of looked out of it. I asked him if he was okay and he said he didn't feel good. At that point, he was bright red and incoherent. It seemed strange since he was fine not 10 minutes earlier. I went to wake my parents who were already in bed (bless their heart) and I told them that Brian didn't look good. By the time my parents got out into the kitchen, Brian had made it into the bathroom and was throwing up.
My parents called the ambulance, but they ended up taking him to the hospital themselves because there were issues with the ambulance. I ended up staying the night at my friend's house. The next morning, my dad picked me up and filled me in on what was going on. At that point, we didn't think Brian's situation was dire at all, but it was serious. He was in and out of consciousness and eventually they had to put him in a drug-induced coma. This all happened during the summer Olympics. Even now, I can't watch certain events because they bring me back to that time.
Eventually, they had to perform surgery and put him on medication. Everything went perfectly, but the next day he stroked out twice. It was beyond hope at that point, so we made the difficult decision to take him off life support. We couldn't donate his organs because he'd been on life support, but we did donate his eyes.
[S]: What was it like for you after your brother's death?
[A]: It was bad. I never talked about it and even went to counseling but I was young and had no idea how to talk about to the counselor. Now; however, when I go home, I visit his grave and change the flowers, and I talk about him and remember - these things help. I was a mess; though, my freshman year, but I took a writing workshop with an amazing teacher, Mr. Steinke. He knew what happened to my brother and helped me work through that in this workshop. I wrote a poem which was published in our little publication called "Puddle of Thought." I kept the Post-it notes that Mr. Steinke wrote me about the poem. There's one that I keep on my kitchen windowsill along with a picture of my brother (see pictures below). After my poem was published my classmates realized why I was having such a hard time and why I was so solemn.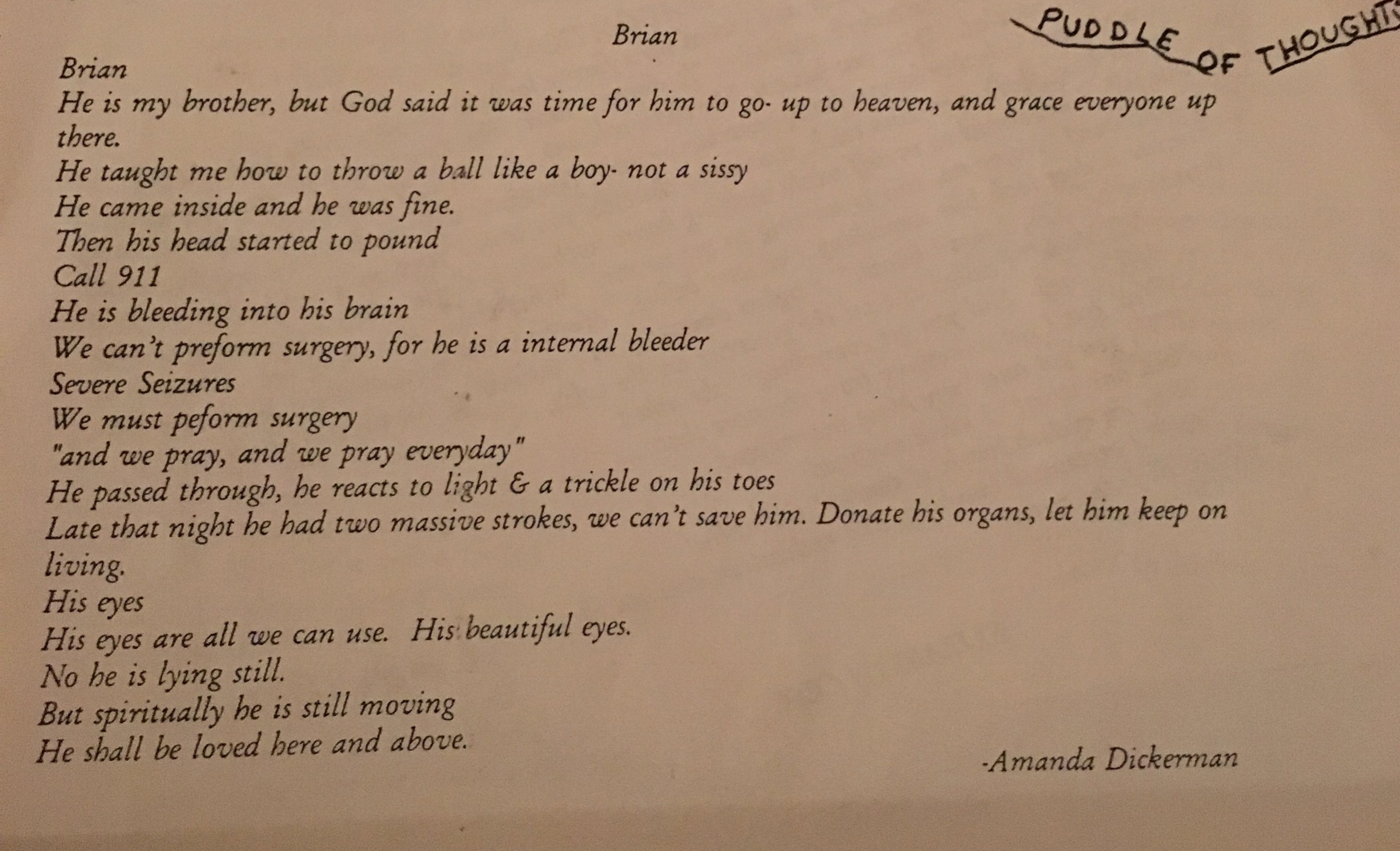 I bet Brian is teaching other little girls to throw "like a boy."
Life is hard. Glad you can go on and do well.
God bless.
I like your spirit.
- Mr. Steinke
[S]: Wow. Not only is your poem powerful, but it shows the lasting impression a caring teacher can make. What's different about you because of your brother's death?
[A]: I think I appreciate things more. Brian didn't live past 25, and I'm going to be 35. I have already lived the sort of life he never got to live. He never got married, he never had kids and he never left Illinois. I'm married, I have a daughter and I've lived lots of different places. Because he didn't get to do these things I'm going to do them and I have done them.
I don't give up.
In terms of my personality, I feel like I'm a lot like him. He was genuinely nice to everyone and there's no reason you can't be nice to everybody. I live my life like that.
[S]: And now, you're moving back to Quincy, correct? What is bringing you back there?
[A]: My husband was the sales manager at KXLT Fox Rochester.
[S]: Was? I thought he is?
[A]: Well, last Friday was his last day. He accepted the same position at WGEM news in Quincy.
[S]: When does that start?
[A]: They pack our house up in early June and deliver it to our new house which we just got last Thursday.
[S]: So, where else have you lived?
[A]: For college, like I mentioned, we were in Lawrence, KS. Then, we moved to Philidelphia where we lived for three years. Then, Chicago for exactly one year. Then, South Bend, Indiana for almost 3 years. From Indiana, we moved here where we've been for 3 years. Apparently, 3 years is our limit.
[S]: Do you plan to stay in Quincy?
[A]: Yes. I always told Ben I would never leave here unless we were moving back to Quincy.
[S]: What's one hobby you'll continue in Quincy?
[A]: I love discovering my ancestors. Genealogies are pretty fun.
[S]: Do you have any strange or interesting people in your past?
[A]: Well, I'm still trying to figure him out, but my maternal great-grandfather was a contortionist. He would put on light shows and do contortion acts. His name was Walter Covert but went by the stage name DeOnzo. He lived in Marshall Illinois but moved to Uvalde, Texas. There he did acting in a little theater and that's where my grandfather was born in 1908. A couple of months later, the trail on Walter Covert went cold. A newspaper article said he went to Monterey, but I'm not sure if it's New Mexico or Mexico. My great-grandmother never saw him again. He seemed to disappear. We don't know if he died or joined the circus or what. My great-grandmother relocated to Quincy and change their last name from Covert to Carter. In the last census I could find, my great-grandmother was listed as a widow.
[S]: A woman in my family was executed in the Salem witch trials.
[A]: Shut the front door! That's another part of history that I really like: the Salem witch trials. Oh, my gosh that's so cool.
[S]: Sucks to be her though. So, what gives you energy? What inspires you?
[A]: Besides coffee and Pinterest?
[S]: Oh, my. Pinterest frightens me. I always feel like a failure as a human being when I go on Pinterest.
[A]: You know it might be kind of cheesy, but I think I get energy from music. I have music on all. the. time. I don't like quiet unless I'm trying to sleep. What I play depends on my mood.
I'm a huge Eva Cassidy fan so we're listening to an Eva Cassidy's station. But, tomorrow I could do eighties pop, or country, or Ray Charles. I grew up listening to Ray Charles and saw him live in concert twice. I don't play an instrument, but I really love music.
[S]: Thanks for sharing your story, Amanda. It's been wonderful to learn more about you. I especially appreciate your openness and vulnerability in sharing about your brother. What warm memories you have to cherish. And, I wish you the best of luck in your new journey.
It was wonderful to get to know "Olivia's Mom." I found her to be bright, vibrant and joy-filled. Losing someone so young is the sort of thing that defines a person's life. Thankfully, Amanda has been able to work through this deep loss. Instead of being swallowed by grief, she has allowed that grief to shape her life by living out the best of who her brother was. I can't think of a better way to honor him than that.
Now, she'll be returning to Quincy (and her brother) with a heart full of adventures and a lifetime of memories to make.
Thanks, Amanda. All the best!